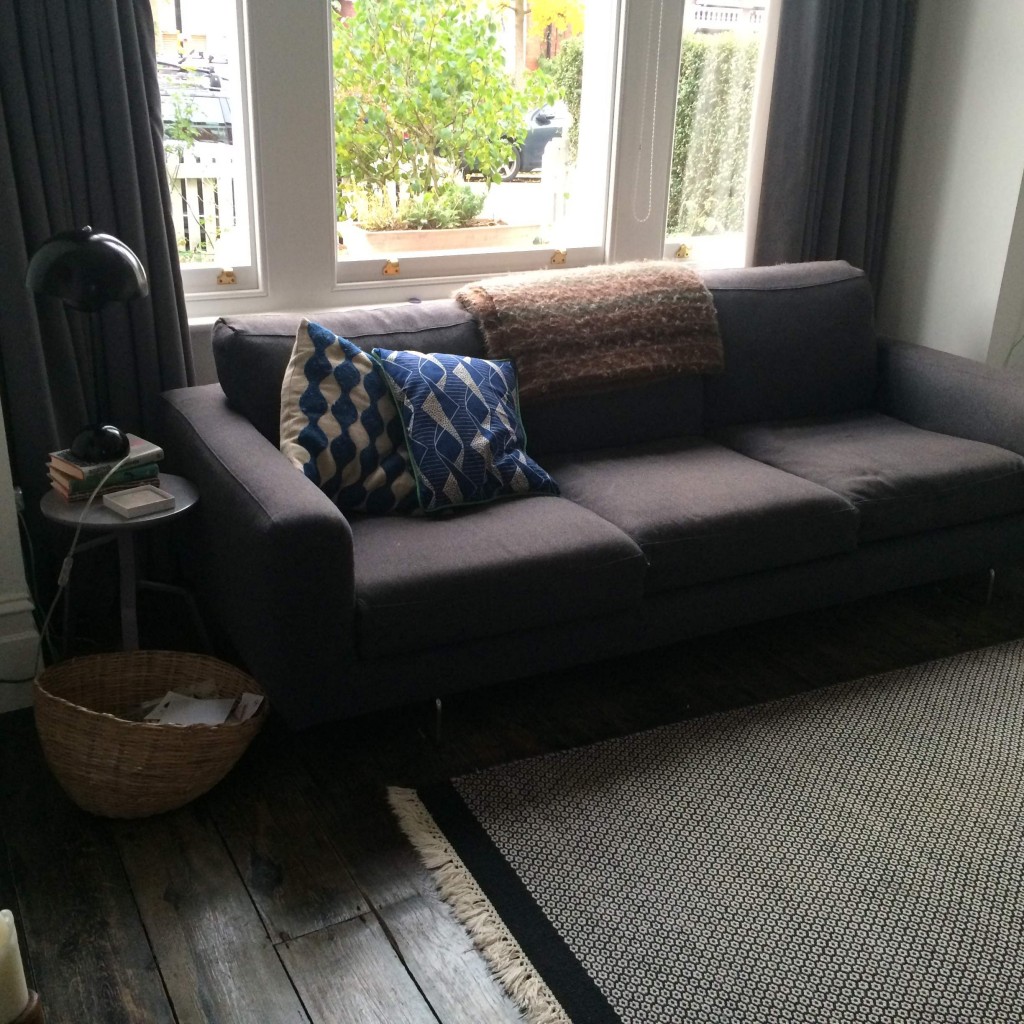 My sofa, aged around eight years, is quite a classy number from Twenty Twenty One upholstered in what used to be a nice blue-grey wool from Kvadrat. Then it faded into more of a nondescript dirge. The light today coupled with my photographing makes it look even more dirty.
Beneath that blanket is this, which can only have been done by the sun.
It's pretty bad isn't it? A few more facts. We very recently splurged out on a new second smaller sofa covered in brown-grey velvet, which sits opposite the ripped one. It has highlighted that wool upholstery is dead scratchy and less than nice on bare summer legs (not such a problem right now). Anyway, hold the brown-grey colour thought in your mind as I couldn't get a nice photo of it at the time of writing. AKA the room was too messy even for a real reveal.
I am currently thinking about navy-blue or maybe a grey-blue / petrol blue linen to recover the old sofa in, which will both go with the (scatter) cushions we have and also tone with the new brownish sofa. Here's a mini mood board.
OK there's more toning to worry about. I'm finally going to cover those Nan sofas. The cat has rendered them dead. Here's how they looked when they were shot for Ellie's book, at the other end of the room from the blue and brown sofas.
And that's our old wee sofa, which we still have, but has been moved to a room where the kids are meant to spend all their time, though they don't obviously because they're forever on the new adult's velvet couch. In writing all of this I am ashamed at my mention of how many sofas we have. Honestly they've appeared over years. Also, some people buy really expensive handbags when they shouldn't so who's worse? It's me isn't it.
More deviation: I finally watched that Tilda Swinton film I Am Love last week, which is shot in a house in Italy called Villa Nechi. At one point the very rich family – who have far more sofas than I do, let me tell you – make their way through the villa to a lavish dinner and the head of the family brushes past one of these chairs.
And so, in conclusion I am after that almost mint-ish, but maybe a bit mossier than that, green linen upholstery for the armchairs, which will be in our different kind of green room with our different-again kind of green curtain, which together I love the idea of. The pink piping is a nice feature too and something that's being employed in this vision, though maybe in a contrasting green or on the navy sofa mentioned at the start of this long winded tale (in a different blue).